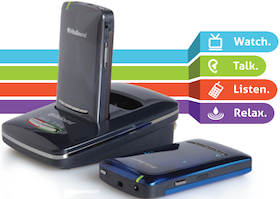 If you need a little help hearing better in noisy restaurants or are having trouble hearing the phone or understanding the dialogue on your favorite TV show, VitaSound Audio Inc. has a great new solution for you.
The Canadian hearing aid company has packed some of its most sophisticated sound processing technology into a slick multifunction personal sound amplifier that not only helps you hear better in challenging listening environments but also streams crystal-clear phone and TV audio directly into your earbuds.
The VitaSound Personal Audio Enhancer (PAE 300) incorporates the company's Neuro-Compensator technology, previously available only in its high-end hearing aids costing several thousand dollars, into a consumer product available on the web for only several hundred dollars.
The PAE-300 is about the same form factor as a typical MP3 player or Apple iPod and, like the iPod, works with standard earbuds or headsets to deliver the audio. But instead of playing recorded music, it has a set of powerful microphones that pick up environmental sound. When a powerful processor conditions the sound and transmits it to your ears, it comes through loud and, most important, clear.
It also scrubs the signal from your mobile phone and delivers a clear signal into your earbuds. On top of that, the small base-station recharging unit also doubles as a transmitter that streams equally clear audio from your TV set through the PAE-300 directly into your ears.
Although the sound amplifier uses sophisticated digital hearing aid technology, it is not a hearing aid. Rather than compensating for a hearing loss, it is a Personal Sound Amplification Product (PSAP) intended to help people with normal hearing cope with difficult listening environments.
With those needs in mind, VitaSound provided eight different settings. Four "Neural EQ Mode" settings let you adjust the output to match your hearing profile; in addition to the default mode, there are modes providing a low-frequency boost, a medium frequency boost, and a high frequency boost. Those settings are enabled by the company's Neuro-Compensator sound-processing software, which conditions signals in ways that make them deliver comprehensible sound based on the way the brain receives and processes signals.
Then there are four "Sound Modes" that optimize the conditioned signal for different listening situations
"Watch Mode" streams the conditioned TV audio into your earbuds.
"Talk Mode" picks up environmental sound through the microphone, then dampens the background noise to make your conversation partner's voice easier to hear.
"Listen Mode" provides enhanced audio when talking on a cell phone or listening to music through an MP3 player.
And "Relax Mode" provides soothing recorded sounds that help you relax, including waves at the beach, a babbling brook, birds chirping, and rain on the roof.
Relax Mode is great for the growing army of people out there with tinnitus, or unwanted noise in the ears. Numerous studies have found that relaxing background noise helps mask the internal noises generated by tinnitus and can dramatically lessen the distraction and anxiety they often cause.
There are plenty of other personal sound amplifiers out there on the market, and there are also plenty of other TV audio streamers out there. But the VitaSound PAE-300 is the first I've seen that does both. And it's the only one I've seen so far that packs sophisticated hearing-aid-quality sound processing software into a personal amplifier that does a lot more than amplify by providing not just a louder signal, but a much clearer signal as well.