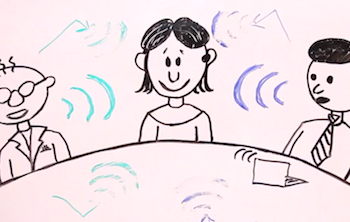 Sound World Solutions has added an iPhone app, music streaming, improved directional microphones and longer battery life to its line of Bluetooth personal sound amplifiers with the introduction of its new CS50 model.
Priced at $349.99 and available direct from the company's web site, the new model incorporates wireless features that expand its functionality well beyond sound amplification and reception of Bluetooth phone calls.
Sound World Solutions promises to "clean up" sound with a combination of digital signal processing, compression, feedback reduction, echo and noise cancellation, Bluetooth low-power technology, and directional microphones.
In layman's language, the CS50 and entry-level CS10 ($299.99) pack advanced digital technology into a small package that looks like a typical Bluetooth earpiece, enabling not only amplification of quiet sounds a listener normally wouldn't hear, but also better comprehension of speech in noisy environments, along with high-clarity Bluetooth phone reception. (Check out the animated video produced by Sound World Solutions that provides one of the best and clearest explanations of digital sound processing that we've seen).
At the same time, the CS50 utilizes the Bluetooth Advanced Audio Distribution Profile (A2DP) to add high fidelity streaming of MP3 music, podcasts and video chats. And the CS50 is now compatible with iPhones running iOS7 as well as with Android phones, with corresponding apps that can be used not only to stream music and phone calls, but also to control functions such as audio volume and sound quality.
Because it uses low-power Bluetooth 4.0 technology, the CS50's batteries also now last up to 15 hours before they need to be recharged.
Personal sound amplification products (PSAPs) are not hearing aids designed to compensate for hearing loss. Rather, they are for people with normal hearing who want to hear better in challenging listening environments. High-tech PSAP manufacturers such as Sound World Solutions are integrating amplification with other advanced functions to make them attractive to tech-savvy communicators who don't necessarily need or want a hearing aid.
[table "8" not found /]