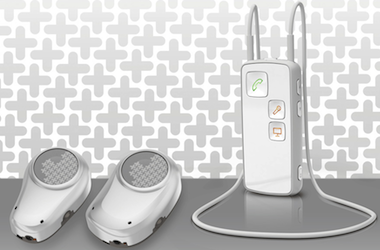 Oticon Medical announced the U.S. Food and Drug Administration (FDA) has approved sale of its new Ponto Plus family of bone anchored sound processors that integrates a line of wireless peripheral devices that make it easier for people with single-sided deafness to cope with their hearing loss.
Bone-anchored hearing aids and bone-conduction hearing systems utilize the sound-conduction capabilities of the skull to collect and amplify sounds reaching the user's deaf ear and transmitting them through the temporal bone in the head to hearing nerves in the ear with good hearing on the other side of the head.
Oticon's Ponto Plus directly to smart phones, loop systems in public venues and other modern communication devices to allow conversation, music and other sounds to transmit from the Ponto Streamer directly to the sound processor. The Ponto Streamer can also act as a remote control, creating an easy way for users to change programs or adjust volume, and built-in jacks allow simple connections to FM systems, music players and computers.
The Ponto Plus is available in regular and power versions and is designed for use with Oticon Medical's proprietary OptiFit™/OptiGrip™ implant design concepts that have also been cleared by the FDA for use in tissue-preserving surgery.
Built on the Inium platform, the latest chip technology from OM's sister company Oticon, Ponto Plus also features a more powerful transducer, improved feedback cancellation, and newest Bluetooth 2.4 GHz wireless technology, all designed to deliver better sound quality, less feedback and fewer artificial sounds.