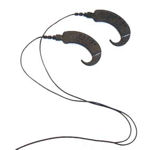 To listen to an iPod or communicate successfully on the phone, even on my most powerful amplified phone, I need to hear with both ears. I've found the best way to accomplish that trick is with a line of products from Hatis that plug into my iPod and my phones. They have ear hooks that hang behind my ears and transmit directly into my telecoil-equipped hearing aids. Hatis products can plug into your cell phone with a 2.5 mm jack or into your iPod, CD player or other device with a 3.5 mm jack. Their silhouette ear hooks are slim, broad and flat, and their patented technology provides better transmission through the telecoils than any other silhouette product I've tried. These products are a godsend, because without binaural listening assistance in stereo, I can't use the phone, at least not for normal business conversations.
When I listen with just one ear, I often miss too much for the phone to be useful, but when I use both, the deficiencies in each ear seem to balance each other out, and with proper amplification I can communicate well. I used to depend on several different neckloops that would transmit the phone signal through the telecoils in my hearing aids. But increasingly I found I had to drape the neckloop over the back of each ear to get as much volume as I required. This was a cumbersome solution and made me look ridiculous. But the Hatis silhouette-style products provide a direct link to my hearing aids that are relatively unobtrusive and easy enough to take on and off when I use the phone. They are pricey, ranging from $100 to $300, but I've found them worth the money as I use them all the time.
The Hatis Freedom series has a plug for a 2.5 mm jack, making it compatible with many mobile phones. It also has a microphone with a lapel clip that I've found to work quite well. Everyone I've asked says my voice comes across very clearly, without background noise. The Freedom series comes in either monaural or binaural versions, so if if you only need to hear with one ear you don't have to bother with two ear hooks. There is also a Hatis Lite version with a much slimmer earhooks. I haven't tried this version but assume it provides a little less volume in return for a slightly easier and less obtrusive earpiece. The Director series is like the Freedom line but also has a boom microphone, for call centers and other situations where even better sound clarity is required. Finally, the Epic series, which also comes in monaural and binaural versions, has a plug that fits a 3.5 mm jack commonly used in CD players, computers, iPods and other devices. It's got a nice long cord, and for hearing-aid users with telecoils, the sound quality is as good as you're going to get because it comes directly through the aids without going through your hearing aids' microphones. The Director series doesn't have a microphone, because it's not necessary when you're only listening. However, my Clearsounds amplified phone has a 3.5 mm jack, so I use the Hatis Director to get my calls amplified in stereo while using the handset to speak. It's a great solution all the way around.