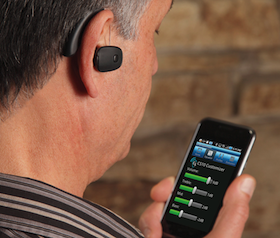 A new generation of Bluetooth earpieces is coming in 2014 that should give a lot of help to people struggling with a little bit of hearing loss.
Three startup companies have recently gotten a lot of attention for new products that perform double duty by improving the clarity of Bluetooth phone calls while also providing hearing assistance in challenging listening environments.
First out of the gate is

Sound World Solutions

of Chicago, which started selling its

CS10 Personal Sound Amplifier

in 2013 and was the subject of a 

CBS Evening News report

 on Christmas Eve about its ambitious plan to bring affordable hearing assistance to millions of people in the developing world.

In Silicon Valley, 

Soundhawk

,

 

a company founded by a legendary hearing-aid industry pioneer Rodney Perkins, announced it raised $5.7 million in venture capital for its Bluetooth hearing enhancement earpieces.

Bloomberg BusinessWeek

and

The Wall Street Journal

both reported on

 Soundhawk's plan to deliver an affordable Bluetooth earpiece in 2014 that uses sophisticated hearing-aid sound processing to provide "situational" hearing assistance to consumers.

And Boston-based

SoundFest

 is putting the finishing touches on its

RealClarity Earpiece

that works with an iPhone app and amplifier to clarify speech in noisy environments while also improving Bluetooth phone reception.
We've been waiting a long time for this inevitable marriage of Bluetooth earpieces with personal sound amplifiers featuring sophisticated hearing aid sound processing technology. Watch for these and other announcements in 2014 that should open up the market for consumer products providing affordable hearing enhancement.